Proposed changes to the Disability Support Pension (DSP) Impairment Tables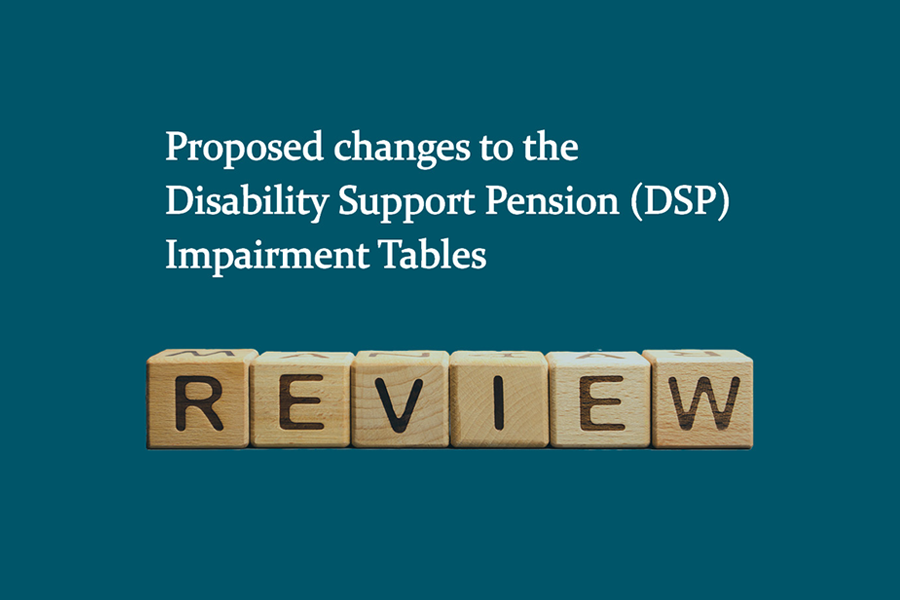 The Social Security (Tables for the Assessment of Work-related Impairment for Disability Support Pension) Determination 2011 (the Impairment Tables) will expire on 1 April 2023.
The Department of Social Services (the department) has been undertaking a review of the Impairment Tables, including public consultations, prior to making a new instrument. Information on the background to the Review and previous consultations is available.
The department is now seeking your views on the new draft Impairment Tables.
Feedback from consultations held in 2021 has been incorporated into the new Impairment Tables. The department received feedback from individuals with lived experience, interested members of the public, disability peak bodies, welfare and advocacy organisations, medical and allied health organisations and government service delivery representatives.
How to contribute to the consultation process
The department is encouraging people with disability, their families and carers, disability advocates, medical professionals and other interested stakeholders to share their views on the proposed changes to the Impairment Tables.
The department has developed an Explanation of Proposed Changes paper which provides details about the changes and a questionnaire to help you have your say.  It includes Word, PDF, Easy Read and Auslan versions.
A guide on how we are talking to the community is available in Easy Read PDF | DOCX | Listen to PDF
This guide is also available in Auslan
You can provide your feedback on the proposed changes by completing the online questionnaire.
Access to complete the questionnaire is open until 11 November 2022.
If you are unable to complete the questionnaire, please contact the department at DisabilityandCarerPayments@dss.gov.au
Please note, submissions received outside of this platform cannot be considered.